The art of collaboration is not dead, and subsequently neither are Crocs. Arguably one of the least aesthetically pleasing, well made, or even functional shoes ever created, it seemed for a while that the world was done with them. But alas, the Crocs PR team was not done with the world. 
In 2018 the brand released its first celebrity collab with Post Malone, who designed his own foamy clog. The rapper's Croc was no different from its predecessors, minus some added barb wire graphics to resemble Malone's face tattoos, and Posty inspired Jibbitz (the charms that poke through the holes of the shoes). But each pair retailed for a whopping $60 and garnered a lot of attention for the clog-maker.
2018 Post Malone X Crocs Barbed Wire Clog
Fast forward to April 27, 2021: the brand reported a record breaking 64 percent rise in first quarter sales for the first three months of 2021, making for a grand total of $460 million. Pre-tax season profits spiked $122.5 million, a shocking increase compared to the $18.7 million they were making this same time last year (though that's nothing to laugh at either). The shoe company's claimed back in April that Crocs is "stronger than ever," and now expects the company's annual sales to rise 50 percent, more than the 25 percent increase predicted back in February.
For design junkies and apparently  Victoria Beckham , this sudden success is mind boggling. The British designer recently shared on her Instagram that she "would rather die," than wear the Crocs gifted to her by Justin Bieber . Bieber is the latest celebrity to color code a Croc and slap his name on a foam sole, but it isn't the first time he's done so. His apparel brand, Drew House, collaborated on a first drop of yellow clogs in October 2020 that sold out in minutes.
@victoriabeckham
The reasoning for Beckham and other's confusion is simple: the Crocs flying off shelves now, are the same Crocs we all shunned pre-Post Malone collab. The only difference now is the marketing strategy, which admittedly, is appreciable. Clearly, someone at Crocs is a Millennial and understands that we are living in the age of the influencer. For a lot of people, what their favorite social media icon, rapper, actress, model, etc. says, goes. The saying "if all your friends jumped off a bridge, would you do it, too?" comes to mind.
But we've also lived through a jarring year that has made us rethink our status quo. What was once deemed unworthy for our day-to-day wardrobe has became a part of our new normal. So why not a pair of comfy, foam shoes, too?
Still, bandwagoning onto hyped-up ugly shoes doesn't quite fit the independent lifestyle we're living in. Are we really so devoted to our pop culture heroes that we'd sacrifice our aesthetics to be like them? It seems unlikely. Rather, people are interested in Crocs "designed," by Bieber, Bad Bunny, Post Malone, and more because it's a way to feel connected with them. 
Left: Bad Buny X Crocs. Right: Balenciaga X Crocs platform.
Because while we may be living in the age of the influencer, we are also living in the age of the Gen Z collector, reseller, and pop-culture fiend. The fact that you can type "Crocs," into the search bar on StockX and over 50 pages worth of results pops up is reflective of the phenomena. Plus, high fashion has also caught on, from Christpher Kane's crytal Jibbitz-adorned marbled model to the Spring/Summer 2018 extreme Balenciaga platform Crocs.
It could also be argued that the universal framework of a Crocs clog is perfect for collaborations. Much like Nike Air Force 1 shoe, which has acted as the breeding ground for collaborations ranging from sneakerhead OG Hommyo Hidefumi of Atmos to the now creative director of Givenchy Matthew Williams , Crocs are becoming a blank canvas on which creators of all mediums may meet. Recreating one just requires a greater sense of humor than for a pair of Nikes, and this is reflected in the individuals the company has chosen to work with thus far. Chinatown Market, KFC, Balenciaga, and even Biber are all capable of taking on a cheekier persona, and that makes them the ideal candidate for collaborating with Crocs.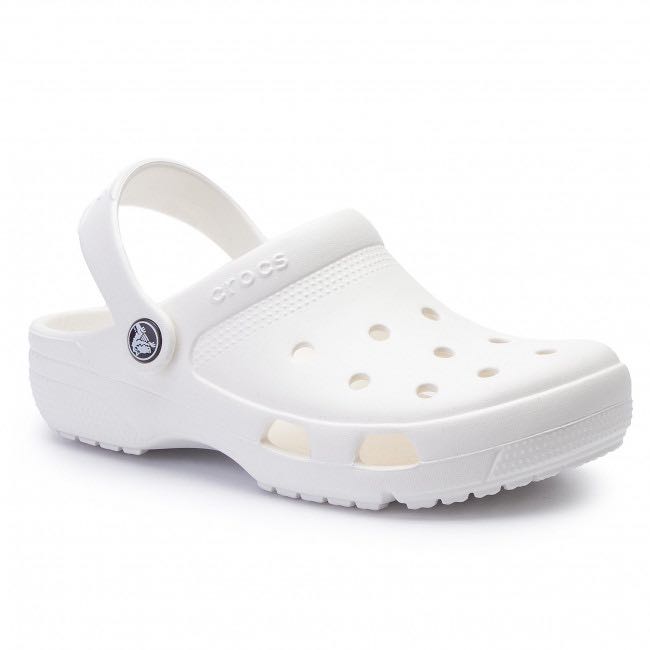 So while Victoria Beckham obviously won't be wearing Bieber's (or any) Crocs, perhaps she will keep them as a memento. And maybe, just maybe, she'll slip them on when no one is looking. After all, they may look like swiss cheese, but there are few things more comfortable.