How things have changed. It wasn't long ago that electric cars were the green alternative, created to divest from fossil fuels and project an eco-friendly image. What they weren't (with the exception of Tesla cars) was anything near sporty. The Taycan shows us that EVs not only can be exciting, but be even more so than combustion-powered vehicles.
This machine is a Porsche through and through. Stupefying acceleration is only one aspect of its performance acumen. Handling is excellent, with confident stability aided by its floor-mounted battery pack. Stopping power is strong, too, even if the Taycan wears its pads down slowly . This car is thrilling and begs to be driven more, and despite its power deficit, we didn't feel like we were missing out.
The Taycan provides a phenomenal driving experience quite unlike any other vehicle. Perhaps more importantly it represents a moment, one that helps revamp the image of electric vehicles from eco-machines to true sports cars. For enthusiasts, there could hardly be a better marque to lead that charge than Porsche
Besides the new RWD entry-level model, all 2021 Taycans have one motor on each axle, providing electric AWD. The rear-axle motor uses a novel two-speed automatic transmission. Each Taycan has a standard power level, and a temporary overboost power level when launch control is engaged.
For 2021, badged simply as the Taycan, it uses a single rear motor for RWD. Two battery choices are offered. With the standard 79.2-kWh battery, it makes 321 hp and 250 lb-ft of torque, while in overboost mode the battery makes 402 hp and 254 lb-ft.
The Taycan with the available Performance Battery Plus delivers 375 hp and 250 lb-ft, or 469 hp and 263 lb-ft in overboost mode. Porsche estimates 0-60 mph acceleration to take 5.1 seconds.
The Taycan 4S adds a front-axle motor and is available with two battery options. The standard Performance Battery provides 320 kW, equivalent to 429 hp. In overboost mode, the battery provides 390 kW, bringing power to 522 hp and 472 lb-ft of torque. In MotorTrend testing, the Taycan 4S accelerated to 60 mph in 3.4 seconds.
The Taycan 4S with Performance Battery Plus takes base output to 360 kW, which equates to 482 hp. Overboost mode takes battery output to 420 kW, equivalent to 562 hp and 479 lb-ft of torque. For the 2021 model, range is EPA-rated at 227 miles.
Don't be confused by the Taycan Turbo's name—there is no exhaust gas compressor in this vehicle. The Turbo name instead denotes its performance focus, with a 460 kW battery providing 616 hp. In overboost mode, it goes to 500 kW, laying down 670 hp and 626 lb-ft for a Porsche-estimated 3.0-second 0-60-mph time. The EPA rated the 2020 Turbo's range at 201 miles.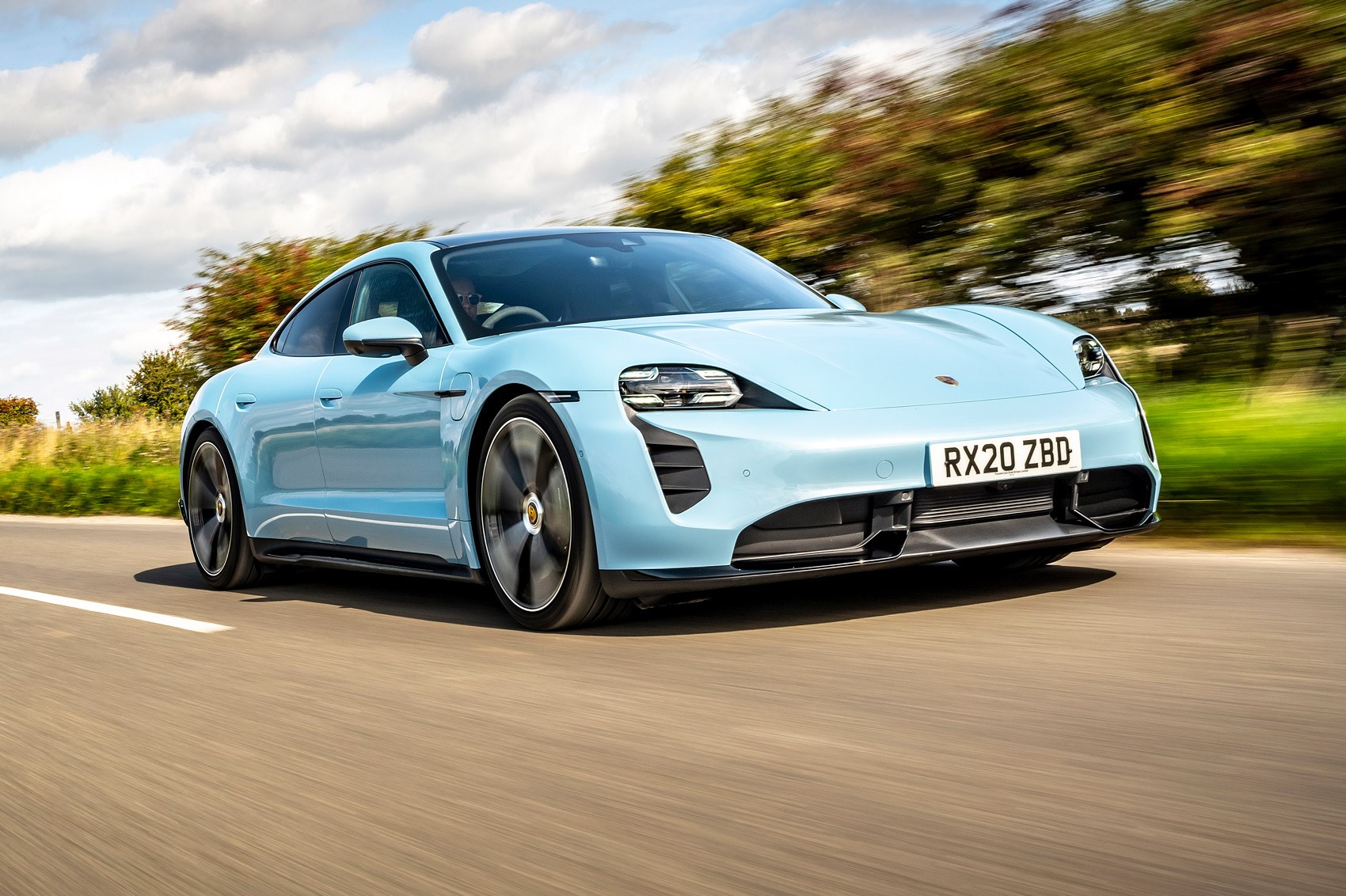 Like Porsche's other sports cars, the Turbo S badge is applied to the range-topping Taycan. No, this one doesn't have a turbocharger, either. What it does have is 460 kW of power, supplying 616 hp. Engage launch control and the battery goes to 560 kW, increasing output to an incredible 750 hp and 774 lb-ft of torque.